Helping Residents in Woodstock, VA Find Insurance Solutions Since 1893
About Our Insurance Agency
You need insurance for everything. You can't buy a car, buy a home or run a business without it. But with so many policy coverage options, where do you begin?
With Haun-Magruder, of course! Our insurance agency has more than 123 years of combined knowledge and experience in the field of insurance, and our agents know how to navigate the tricky process of choosing an insurance policy.
You want an agent who can help you assess the risks you face, and who knows the marketplace. You'll find such agents here. We understand that insurance is a safety net for yourself, your business and your family, so it has to give you the best possible protection.
Don't treat insurance lightly. Let our insurance agents guide you through policies ranging from coverage of business auto insurance to homeowner's insurance. We look forward showing you the ways our insurance agency can help you!
Haun-Magruder, Inc. is an insurance agency located in Woodstock, Virginia, in the heart of the Shenandoah Valley. We are an integral part of our local community, having served Shenandoah County, Winchester, and all of Virginia since 1893. Our mission is to offer individuals and businesses with insurance products to meet their specific needs.
As an independent agency, we represent companies that share our agency philosophy. Our customers can purchase insurance protection backed by superior service at a competitive price.
Why do business with Haun-Magruder, Inc.?
Unlike a captive, or direct insurance company who only offers their own proprietary products, our agency is 100% independent of any one company. Many insurance consumers don't fully understand just how important that really is.
When it comes to something as important as insurance, it's imperative that you work with an agency who has an in-depth knowledge of multiple insurance products, companies, and guidelines — not just one.
At the end of the day, what separates one agent from another, is their ability to proactively service their policy holders, and their knowledge of the insurance industry, products, and different situations that may present themselves to their clients.
Independent Agent Vs. The Rest
Here is a quick comparison of the differences between an independent agency like us, and the various other types of companies that are out there: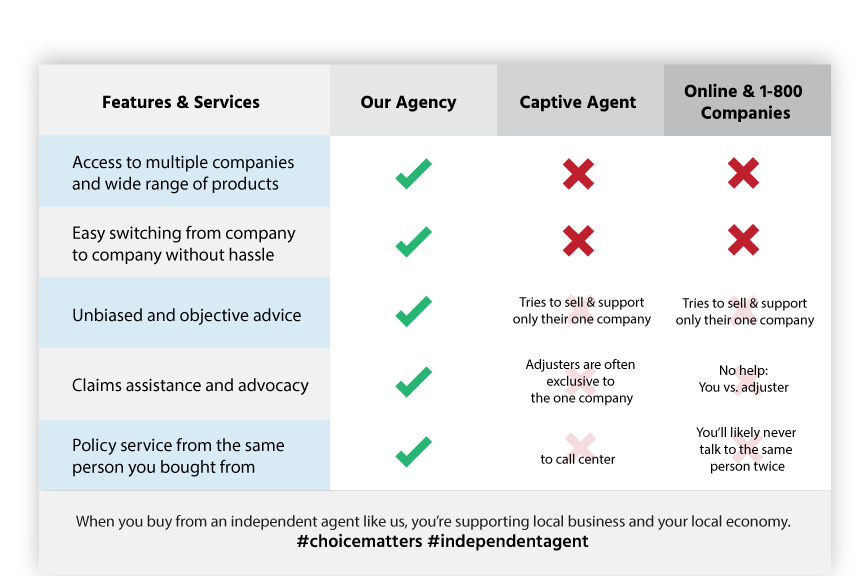 If you'd like to get started with a complimentary quote and/or policy review, we'd be happy to help you any way we can. Simply complete the fields below to get started online in a matter of seconds.
We appreciate the opportunity to help you, and look forward to servicing your insurance needs! Feel free to call us directly if you have more detailed questions.